We have been using FileZilla for years now, and for ease, convenience and the fact that its free, it is absolutely the best FTP program out there.
For help with actually using FileZilla visit our Tutorial for Using FileZilla
Welcome to the homepage of FileZilla, the free FTP solution. Both a client and a server are available. FileZilla is open source software distributed free of charge under the terms of the GNU General Public License
Overview
FileZilla Client is a fast and reliable cross-platform FTP, FTPS and SFTP client with lots of useful features and an intuitive graphical user interface.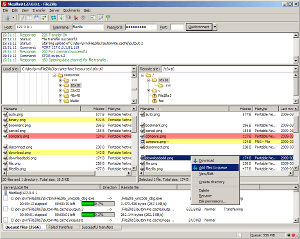 Features
Among others, the features of FileZilla include the following:
Easy to use
Supports FTP, FTP over SSL/TLS (FTPS) and SSH File Transfer Protocol (SFTP)
Cross-platform. Runs on Windows, Linux, *BSD, Mac OS X and more
IPv6 support
Available in many languages
Supports resume and transfer of large files >4GB
Tabbed user interface
Powerful Site Manager and transfer queue
Bookmarks
Drag & drop support
Configurable transfer speed limits
Filename filters
Directory comparison
Network configuration wizard
Remote file editing
Keep-alive
HTTP/1.1, SOCKS5 and FTP-Proxy support
Logging to file
Synchronized directory browsing
Remote file search
This is for the windows version. For linux, Mac or others please visit "Main Downloads Info Page Here"
  Here is the primary documention and help page for everything youll ever need to know about FileZilla. Or you can ask us.